Footballers have huge responsibilities as individuals to carry themselves in the most respective manners both on and off the pitch. The primary reason is that the image of the brand (club) that they represent is inversely related to the player's actions and behavior. Secondly, they are looked upon as role models, be it in whatever circumstances, to people of different age groups all over the world.
Now, when you consider these factors, how can certain well known individuals do what they do on or off the field? To be more specific, I will be taking two incidents that really is a reality check on footballer's being human with a demonic side to them.First, lets take a look at Real Madrid. We are well aware of the beautiful moments that the team had provided us with in the past. Specifically, those during the time of Zidane, Figo, Raul, Carlos and Ronaldo (the true galacticos). I was actually a die-hard Madridista back then. On the other hand, if I had to take a look at the team today, still have great players but not as entertaining as they were. This one incident just threw me off Real Madrid when the team played Getafe in 2009. Pepe had indiscriminatingly fouls and kicks o while on the ground. Take a look at the foul here. He then threw a jab at another player between the commotions. One could clearly tell from the look on his face while he was walking to the showers after being red carded, that his interest in this beautiful game was over.
Pepe's action was disgraceful to the club with a vibrant history. Casillas came out saying that Pepe had disgraced Madrid's white jersey.
But the only positive that I can come with is the fact that, the only greatest critic of the incident was the man himself. Many footballers would actually stay away from post game conference after an action like that, however he came out apologizing for his action. He went as far as saying that he may not return to the game.
Another incident is that of Sergio Busquets against Inter Milan in the Champions League match up in 2010. Barcelona, need no introduction on their style of play. Beautiful, simple and enjoyable. But they have a dark side as well. The above is when Busquets was "apparently" hit on the face by Thiago Motta. Here is the replay.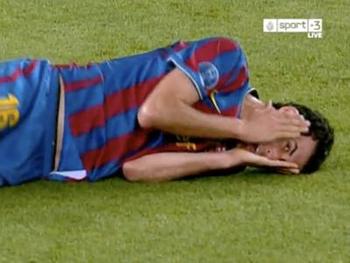 Clearly a case of play-acting. Really, did it hurt that much for him to fall on the ground? How could he just lay down there on the ground, and do a little freaking peak-a-boo? Did he not realize that there are close to a billion eyes on him? For God sake, you play for Barcelona. Media had a field day. Mourinho imparted us with a sarcastic but reasonable comment. And I was disgraced mentally, knowing the fact that I had always advocated Barcelona of displaying nothing less than exceptional beauty.
As football fans, we have to look on the consequences of the incidents and observe if the statement they make is of true regret. If so they deserved to be forgiven. We have seen a lot of players of great caliber who have done something similar or even greater. Cantona, Keane and Gascoigne are few of the names that pop up. Currently, Pepe is still an integral part of RM and if we look at whether his actions have changed. I can proudly say not even close.