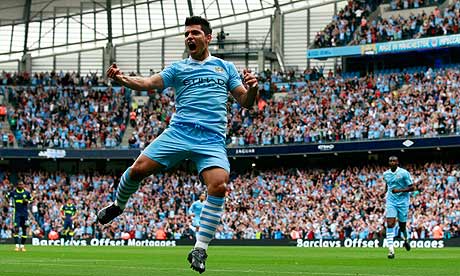 Firstly, for all of you who are not familiar with the term "tiki-taka", it is a style of play which is illustrated by short and accurate passes, exemplary movement and possession of the ball. It was introduced and termed after Cryuff took over as the manager of Barcelona in 1988 and subsequently implemented the style which we have come to appreciate today when either, Barcelona or Spain are on the pitch.It has been a pleasure watching City play the beautiful style of football this season. Was not the case earlier though. City as a team was considered to be too defensive in the past few seasons, nonetheless which is still commended, as they were known for letting the least number of goals in the past season, along with Chelsea.
However, this season, with the acquisitions of Aguero and Nasri, (in the offensive line-up), the movement of the attacking 5 (whoever it be) and the intricate passing between them is quite visible to the City fan. The goals scored by Aguero and Edin Dzeko have been nothing less than magnificent on the eye. They would need no explanation.
The support provided by David Silva and Samir Nasri have also injected the faithful with a sense of achieving the success that we City fans have been dreaming for – the Premier League title. It just seems that one cannot get the ball of Silva, when he is on the move. The assist on the third goal by Aguero against Wigan this past weekend is a paradigm of the above assertion. The sustenance provided by Milner, Johnson, Barry, Yaya just makes it all pleasing to watch.
Also, one cannot discount the effort shown by the strong defensive lineup of Lescott, Richards, Kompany and Clichy. Moreover, Kompany is displaying his leadership qualities on the field, which is a justifiable measure of him being given the captain's armband.
In the end, Joe Hart. There is nothing much to say about him. He has improved a lot since his loan move to Birmingham City and back.
We as City fans can only contemplate that tiki-taka continues to improve and grow on the players and they in turn provide us with the performance they have displayed to us recently, for years to come.
PS: Please do not respond to this article if City loses next weekend. They have a tendency of doing that.